221 Concord St,
Framingham Massachusetts 01702.
Tel. 508-875-4788


Father Mark Matthias returns to Saint Stephen for his first Mass!
One year after coming to St. Stephen as a deacon, and three months after his priestly ordination in Brooklyn, Fr. Mark Matthias returned to
St. Stephen on September 16th to say the 8:00 a.m. Mass for us.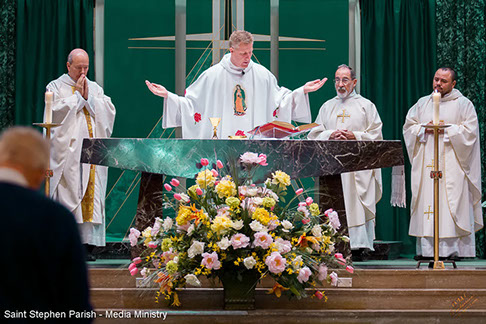 He celebrated a wonderful Mass, gave a beautiful homily, and expressed
his heartfelt appreciation for all the prayers and support he had received
during his deacon year at St. Stephen.
Father Mark beautifully displayed the Chasuble that was given to him as a gift from both, Priests and parishioners, of Saint Stephen: a gorgeous chasuble with Our Lady of Guadalupe that was obtained at the Basilica of our Lady during the most recent pilgrimage of some of our parishioners to the Shrine in Mexico.
Fr. Mark also joined us for coffee and donuts in the St. Paul Room after the
Mass and gave his special blessing to each person individually. We wished
him God's many blessings on his priesthood.
Our Deacon Mark is now "Father Mark"!
In a joy-filled ceremony, Deacon Mark was ordained to the Priesthood of Jesus Christ along with other nine of his classmates on Saturday, June 27, 2015 at the Co-Cathedral of Saint Joseph in Brooklyn, N.Y.
Twenty parishioners of Saint Stephen Parish made the trip to be with Father Mark on this joyous day, including Father Paco and Father Bert who could be seen, beaming with joy for Father Mark on his special day.
The Bishop of Brooklyn, Most Rev. Nicholas DiMarzio, addressed the candidates before ordination underlining that "they are been ordained in difficult and troubled times for the Church and for the world, but the promise of God's grace and assistance in their new ministry should encourage the newly ordained to be both, bold and prophetic in their ministry".
After the ordination, Father Mark came to the reception where we had a brief moment to ask for his first blessing before he went to say his First Mass at the Parish church of Saint Patrick. Father Mark did a wonderful job on his first Mass and promised to try to find some time next month to come to Saint Stephen and say Mass for all of us. That would be another joyous occasion and an opportunity for all of us to ask for Father's first blessing.
Ad multos annos Father Mark, Saint Stephen's doors will always be open for you!
Saint Stephen Parish - Framingham Massachusetts